National Action trial: 'Neo-Nazi' posed in 'KKK robes with baby'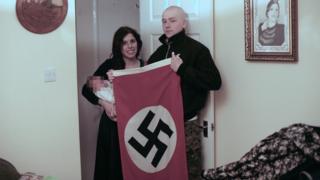 A "fanatical" neo-Nazi posed for photographs with his newborn baby in Ku Klux Klan robes, a court has heard.
Jurors at Birmingham Crown Court were shown images said to be of Adam Thomas, 22.
Another photo showed him holding a swastika flag alongside his partner and baby.
Mr Thomas, along with partner Claudia Patatas, 38 and Daniel Bogunovic, 27, denies being a member of banned far-right group National Action.
Prosecuting, Barnaby Jameson QC said the photos were from the "Thomas-Patatas family album".
Mr Jameson said one image, found on a memory card at the house, shows Ms Patatas holding her baby, standing next to another man holding a swastika flag and performing a Nazi-style salute.
Describing another image, said to show Mr Thomas in the hooded robe with his child, he said: "The suggestion is that is Mr Thomas and his child, whose middle name is Adolf."
Turning to an image of a hooded man with a machete, Mr Jameson added: "There is a strong inference, and you'll appreciate this when you look inside the Thomas and Patatas house, that that was taken inside their home, and that the person in the robes was Thomas."
The couple gave their child the middle name Adolf, which the prosecution allege was in honour of Nazi leader Adolf Hitler.
Mr Thomas and Ms Patatas, of Waltham Gardens, Banbury, Oxfordshire, are on trial accused of being members of National Action, which was banned under terrorism laws in December 2016.
Axe and knives
Co-defendant Mr Bogunovic, of Crown Hills Rise, Leicester, is facing the same charge.
A host of Nazi and far-right memorabilia, and National Action flags, badges and banners, were found at the couple's home, the court has heard, as well as an "extensive" collection of weapons, including crossbows, an axe and knives.
Two cushions bearing the swastika were found during police searches of the house after their arrest for alleged terrorism offences in January, the court was told.
A greetings card on the sideboard of their living room featured KKK figures and read: "May all your Christmases be white."
All three defendants deny wrongdoing and the trial, set to last four weeks, continues.