Lakes drained at Blenheim Palace to save 'finest view in England'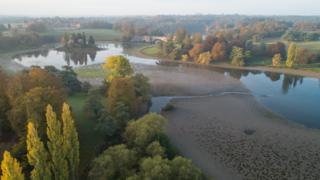 Lakes at Blenheim Palace have been drained as part of a project to save a view described as the "finest in England".
The stately home needs to remove 400,000 tonnes of silt to protect the Grade I-listed Vanbrugh Bridge.
The view of the lakes and bridge was once described as the finest in England by Lord Randolph Churchill.
"It is great to see the first phase of the project begin," said Head of Estates, Roy Cox.
He added: "The dredging of Queen's Pool and the repairs to the Grand Bridge are not only our greatest challenge to date but also marks some of the most ambitious stonework and dredging projects ever attempted in the UK."
"If all goes according to schedule this initial investigation will enable us to draw up detailed plans for the main work, which is likely to begin towards the end of next year and into 2020."
British prime minister Sir Winston Churchill was born at Blenheim Palace in 1874.
In the same year his father, Lord Randolph Churchill, described the view of the palace across the Great Lake as the "finest view in England" when he first saw it.
Blenheim Palace said the Queen's Pool and the main lake were now so shallow they were at risk of drying out, which could threaten Vanbrugh Bridge.
The lakes are less than 11in (30cm) deep in 70% of their upper areas and will be returned to their original depth of about 6ft 5in (2m).
That is to ensure further damage is not caused to the bridge, which was designed by John Vanbrugh and built between 1708-1710.
Blenheim Palace expects the project will reveal hidden architectural features of the bridge, like flooded rooms, that have been underwater for 100 years.
The work is expected to take 20 weeks.