Jeff Koons to display artworks at Oxford exhibition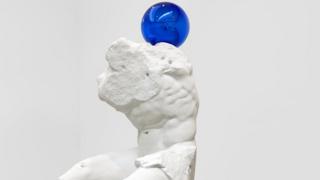 The artist Jeff Koons will display his works, some of which never have been shown in UK before, at an Oxford museum next year.
The artist's decision to host the show at the Ashmolean Museum came after he visited a university art history society to accept an award in 2017.
Koons and curator Sir Norman Rosenthal then selected 17 pieces to exhibit at the museum.
Fourteen of the sculptures have not been shown in the UK before.
Koons became widely recognised for contemporary sculptures after his solo exhibition in 1980.
In 2013, his sculpture 'Balloon Dog' sold for $58.4m (£42.7m), which broke the world record for the highest price paid for a single artwork, made by a single artist.
The exhibition in spring 2019 will showcase a range of sculptures dated throughout Koons' career.