National Action trial: 'Neo-Nazi' accused admits being a racist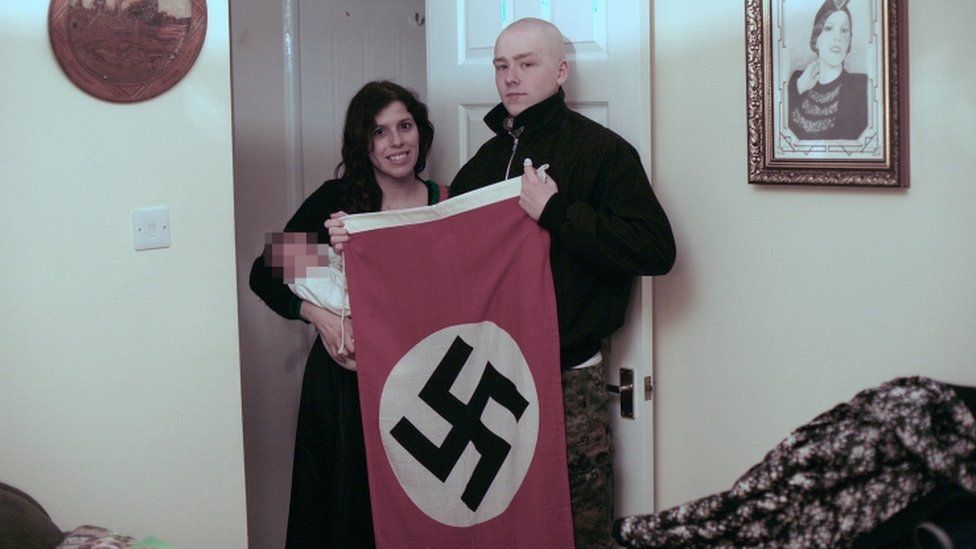 A father on trial accused of being a "fanatical" neo-Nazi terrorist has admitted being a racist.
Adam Thomas, 22, also told a court he gave his baby son the middle name Adolf to reflect his "admiration" for Hitler.
He admitted posing for photographs in Ku Klux Klan robes with his newborn son but said it "was just play".
Mr Thomas, along with partner Claudia Patatas, 38, and Daniel Bogunovic, 27, denies being a member of banned far-right group National Action.
Giving evidence at Birmingham Crown Court, Mr Thomas was asked by his barrister Frida Hussain: "Are you a racist?"
He said chat groups where he had made anti-Semitic and racist remarks to other alleged National Action members were with people who "shared interests" and not intended for public consumption.
The security guard told jurors he was brought up by his maternal grandparents in Birmingham but saw his mother, father and stepfather, who he described as "common racists".
From the age of five, his stepfather, who was in the "white power" band Screwdriver, which had "very racist views", would shave his head.
He said his paternal grandfather had "a positive view of Hitler and the Nazis" and used to deliver a "Hitler salute" when he visited as a boy.
Asked about his child's middle name, he said: "It definitely doubles up as the name of Adolf Hitler.
"It's undeniable and I don't make a secret of it. It does reflect an interest in that topic and admiration for what it represents."
He told the court how at school his racist views led to a counter-extremism mentor taking him to see a Holocaust survivor.
"Well, she told me she was evacuated from Germany to Britain and I couldn't see that as being a Holocaust survivor, at the time."
Ms Frida asked: "Did you tell her to her face?"
"I did, yes," he replied.
During a search of his home police found KKK robes, which Mr Thomas admitted belonged to him.
Mr Thomas and Ms Patatas, of Waltham Gardens, Banbury, Oxfordshire, and Mr Bogunovic, of Crown Hills Rise, Leicester, deny being a member of the banned group.
Related Internet Links
The BBC is not responsible for the content of external sites.