National Action trial: Terror accused 'not raising mini Nazi'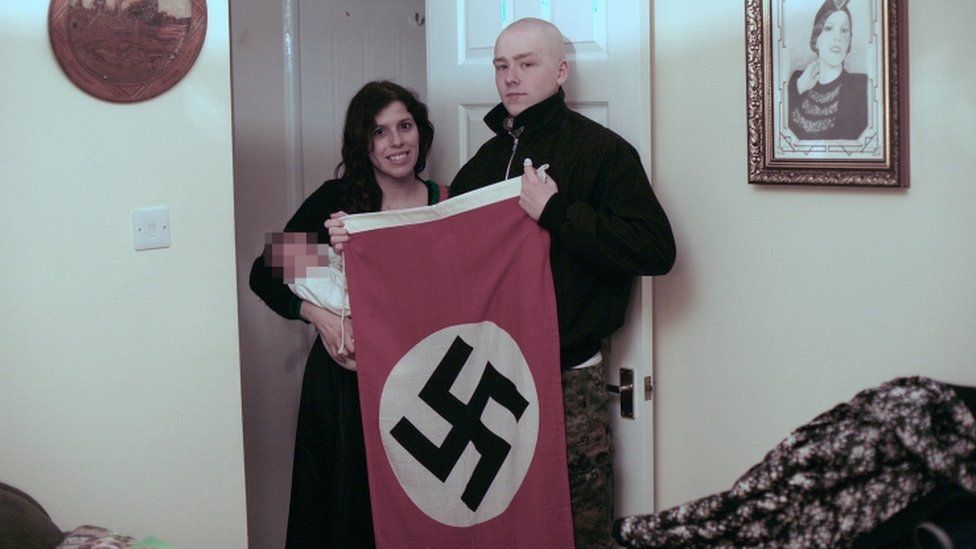 An alleged far-right terrorist who named his baby son after Hitler has told a jury he does not want to raise a "miniature Nazi".
Adam Thomas said being involved in far-right activism and politics "can devastate your life".
The 22-year-old has accepted he gave his son the middle name Adolf because of his "admiration" of Hitler.
Mr Thomas, from Banbury, Oxfordshire, denies being a member of banned far-right group National Action.
He is on trial at Birmingham Crown Court with his partner Claudia Patatas, 38, and Daniel Bogunovic, 27, who also deny the same charge.
Jurors have previously been shown a photograph said to be of Thomas in Ku Klux Klan robes and cradling his baby, which he said was "just play".
Mr Thomas was repeatedly asked by prosecuting barrister Barnaby Jameson QC if, in naming his son Adolf, he was "looking to raise a miniature Nazi".
The former Amazon warehouse security guard told the court he was not and continued: "I wouldn't encourage him to engage in any kind of activism or far-right politics at all.
"Getting involved in the far-right can devastate your life, it has cost me the first year of my child's life, my house, my job - if I could turn back the clock I would.
"I don't wish to push my mistakes on my own child."
Mr Thomas also described Thomas Mair, who murdered Labour MP Jo Cox, as "an absolute idiot" who had achieved "nothing" through the killing.
He was asked about remarks made in a Telegram chat group on April 4, 2017, which also included Ms Patatas.
The discussion turned to a concert by the rapper Stormzy, prompting Patatas to have allegedly said: "I would happily tie them all together and set them on fire."
Mr Thomas, who is originally from Sutton Coldfield, Birmingham, told the jury: "Claudia wouldn't do that though, she wouldn't harm a fly."
He described other remarks within the private chat group as "trolling" designed to shock, including remarks about "killing gays" which were only "a sick joke".
Mr Thomas said: "I can only apologise to the jury and my lord [the judge] for being exposed to these kind of comments and derogatory terms.
"It still doesn't constitute a crime, as morally abhorrent as it is."
Asked if he was a Holocaust denier, he replied it was "a complicated matter".
The trial of Mr Thomas and Ms Patatas, of Waltham Gardens, Banbury, Oxfordshire, and Mr Bogunovic, of Crown Hills Rise, Leicester, continues.
Related Internet Links
The BBC is not responsible for the content of external sites.