Former Carterton mayor in legal action 'vendetta'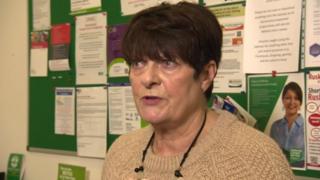 Legal action to recover nearly £5,000 from a former mayor is due to a "vendetta", she has claimed.
Carterton Town Council said the sum it wanted from Lynn Little partly related to payments from the mayor's allowance account to an organisation she manages.
Martin McBride, who replaced her as mayor in the Oxfordshire town, said it was "nothing personal".
Ms Little told the BBC that the majority of the money was to be used to build a veteran's home.
She said: "The money hasn't been misappropriated. It's sat in a Barclay's bank account, under the Ted Little Veterans Home, administered by a treasurer.
"How can it be misappropriated? It's a charity."
Mrs Little continued: "If I'd have made a mistake, or if I'd misappropriated money I have the integrity to hold my hands up.
"It's a vendetta that's been going on for quite a long time and the evidence is there to support it."
'Difficult to see'
The mayor's allowance account is for donations to charities or to offset expenses arising from fundraising.
Mr McBride, who is also chairman of the council, said: "We find it difficult to see how that £4,000 can be used to set up a home and also the running costs of keeping a home going.
"The idea of a veteran's home is something that councillor Little did raise some while ago, but the actual practicalities don't seem to exist."
Mr McBride said he was donating £835 from his mayor's allowance to "reduce the immediate impact to local charities".
Thames Valley Police said a report of alleged fraud at Carterton Town Council was referred to its officers last November, but no arrests were made or charges brought.