The Cellar in Oxford saved from closure by fundraising appeal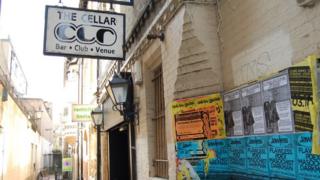 A popular music venue which was threatened with closure has raised enough money to stay open.
The Cellar in Oxford was limited to a capacity of 60 people after inspectors ruled its fire escape was 30cm [11.8in] too small.
Its owners launched a crowdfunding campaign, backed by a host of famous musicians, which has raised £80,000.
Manager Tim Hopkins said he was "awestruck" by the response and building work could begin in January.
The bid was backed by a host of Oxford musicians, including Gaz Coombes, Philip Selway from Radiohead, Mark Gardener from Ride, Yannis Philippakis from Foals, and the band Glass Animals.
During the campaign other high-profile names such as former Pulp front man Jarvis Cocker, 6 Music DJ Steve Lamacq, folk singer Frank Turner, Rick Stein, and dance music DJ Judge Jules got involved.
Mr Selway called it an "important part of the musical and cultural life of Oxford".
"It's venues like this that are actually the lifeblood of music, they support and nurture new and emerging talent," he said.
Mr Selway donated a signed snare drum that he played on Radiohead's In Rainbows album towards the cause.
A previous petition to keep the venue when the area was earmarked for redevelopment gathered 13,000 signatures and the application was withdrawn.
But as part of the lease renegotiations following a fire risk assessment Oxfordshire County Council said its escape route was "not adequate".
The money raised will go towards a new fire exit, modernisation work, and to cover the costs of its temporary closure.
Mr Hopkins said: "Without this, The Cellar would definitely close this December.
"It's been an incredible journey and one we hope also communicates to people out there just how crucial small venues are to our music and arts community."
Previously known as The Corn Dolly and The Dolly, The Cellar has been run by the Hopkins family since the 1980s.