Century-old Oxford sports shop Elmer Cotton to close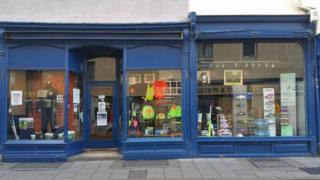 A sports shop in Oxford is to close after more than 100 years in business.
Elmer Cotton, which opened in 1911 on Turl Street and claims to be the oldest sports retailer in the UK, will shut in December.
"This has not been an easy decision to make but times and how people shop are changing and we need to move with them," it said.
The business will move to a warehouse in Kidlington and become an online-only retailer.
Owner Judy Barrows said visitors to the shop were increasingly using it as a "showroom" before buying items online elsewhere.
She said: "It's a new chapter. We are an institution and have been there since time began, and it will be a very sad day, but you've got to move with the times."
University help
Manager Ben Cook said: "It's been incredibly tough considering we've always been known as an Aladdin's Cave.
"We've always had something, somewhere for someone."
Elmer Cotton plans to concentrate on customised sportswear.
But Oxford University student Julian Manieson has called on the university to step in and help save the shop.
He said: "The shop itself is actually older than 11 of the Oxford colleges.
"The really interesting thing is how important it is to the really small college sports clubs and the really small university clubs, as well as the big ones."
The BBC has approached the university for comment.