The Hobbit first edition sells for £6,000 at auction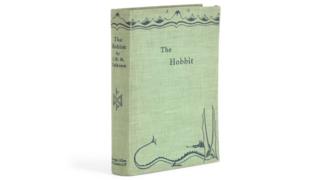 A first edition copy of JRR Tolkien's The Hobbit found in a box of religious books donated to a shop has sold at auction for £6,000.
The book, given to the Oxfam shop in Chipping Norton, Oxfordshire, was sold at Bonhams auctioneers.
The valuation of The Hobbit, which no longer has its dust jacket, was estimated between £2,000 and £4,000.
Shop manager Tony Cooper called the auction "fast and furious and very exciting" and said he was "delighted".
Mr Cooper said the copy was discovered after about 30 boxes of books had been delivered to the shop.
He said: "These particular boxes had obviously been in a dark corner for some time because they were very dusty.
"They were all theology books in poor condition. But a copy of The Hobbit leapt out at me very quickly because of the nice binding."
When he noticed it was a first edition dating back to 1937 Mr Cooper realised it could be auctioned off for the charity.
He showed it to Antiques Roadshow expert Matthew Haley, who works for Bonhams and was scheduled to carry out book valuations for the shop's customers.
"I was very happy to put it into his hands," said Mr Cooper, who admitted he was a fan of Tolkien's work.
"I don't dress up as a hobbit on weekends, but the books are fantastic and a delight to read.
"I was thinking it's time I read The Hobbit to my grandchildren… and I will do that before Christmas."
Tolkien wrote The Hobbit while working as a professor at Oxford University.
It introduced the character of Bilbo Baggins and the "one ring" that would feature again in his Lord of the Rings trilogy.