Alleged child sex victim 'not telling truth'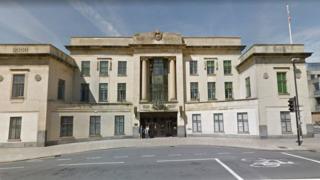 A woman at the centre of an Oxford grooming and rape case has been accused of repeatedly lying.
Mohammed Karrar, 44, his brother Bassam, 39, and Anjum Dogar, 36, are accused of committing 11 offences against her between 2002 and 2005.
She was 14 when she first met them and claims she became pregnant after being raped by Mohammed Karrar and Mr Dogar.
A defence barrister told the court: "You are not a witness who is reliable and have not told the truth."
Second thoughts on statement
Jacob Hallam QC, who is representing Mr Dogar, made the remarks while cross-examining the alleged rape victim.
He said the woman, who cannot be named for legal reasons, had said things to "people in positions of authority that are not true".
Mr Hallam said she admitted to making an "exaggeration" when she claimed her mother's house was a drug den in 2006, having stated that it was not a safe place for herself and her child to live.
He also said in 2015 the alleged victim had lied to social workers about a man who was staying in her house for four months.
During the cross-examination, she admitted to Mr Hallam that she had second thoughts about the sequence of events detailed in her police statement.
She said: "I couldn't sleep last night thinking about it.
"I believe it to be wrong.
"The more I think about it the more I remember how things happened."
'Bite marks on me'
Bassam Karrar's counsel John Ryder QC questioned whether the alleged victim had wrongly identified the man, who she knew by his nickname Jazz.
He said she could have made an "honest mistake", and the person she knew as Jazz was not Bassam Karrar.
On Monday the alleged victim detailed one time she drank vodka and smoked cannabis before passing out with two of the men in a flat in Headington.
She said she woke up the next morning alone, naked, bruised and in severe pain, with some bleeding. She said: "I had bite marks on me, there was one on my collar bone that was practically bleeding."
She later discovered she was pregnant after the encounter, she was 15 at the time.
On Tuesday she said she had an abortion after discovering she was pregnant.
Mohammed Karrar and Mr Dogar both deny indecent assault, rape and conspiracy to rape. Bassam Karrar denies indecent assault and rape.
The jury was told that all three were previously convicted in 2013 of a series of serious sexual offences against groomed teenage girls.
The trial continues.