Oxford Roger Bannister ward renaming rejected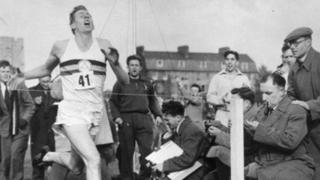 A proposal to rename part of Oxford in memory of the late athlete Sir Roger Bannister has been rejected.
Oxford City Council suggested changing the name of St Clement's as part of a review of city council wards.
The ward would include the Iffley Road running track, where Bannister made history by becoming the first man to complete a four-minute mile.
But the Local Government Boundary Commission said the new name had to "describe the area concerned".
In a statement it said the ward's name should "be recognisable to as many residents in the ward as possible".
"Whilst we appreciate the desire to honour the likes of Sir Roger Bannister, the primary purpose of a ward name is to describe the area covered by the ward," it added.
Bannister, who was also a leading neurologist and Master of Pembroke College, Oxford, died in March.
The idea to honour him by changing the name of St Clement's to Bannister came from Green Party member Craig Simmons.
He said he was disappointed by the decision but added: "I understand their logic.
"They are trying to retain the link between ward names and geographical locations."