Mother died after delayed 111 response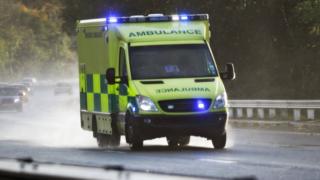 A pregnant mother suffered a cardiac arrest and died after a 111 ambulance call handler said she required a "lower category response".
Domnica Pusca, 31, was about nine weeks pregnant when she complained of abdominal pain on 24 February and her husband dialled 111.
Oxfordshire Coroner's Court ruled that the Wallingford resident died of a ruptured tubal ectopic pregnancy.
NHS England said it was not currently able to comment on the case.
Ms Pusca's husband called for help at about 10:30 GMT when she began having pain at home.
In a narrative verdict, chief coroner Darren Salter said the call handler "incorrectly triaged" the mother "as requiring a lower category response, resulting in a delayed response".
Her husband called 999 at 11:30 GMT after Ms Pusca became unresponsive.
After the second call paramedics from South Central Ambulance Service reached her at 11:45 GMT, but despite emergency treatment and CPR she was pronounced dead at 12:35 GMT.