Oxford to have 'UK's first' zero emission zone after council approval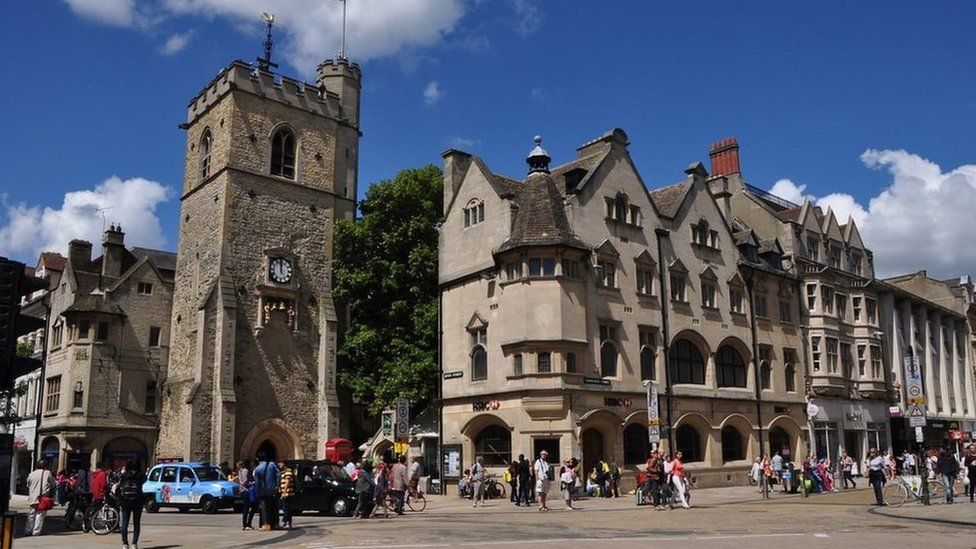 Oxford is set to become the first place in the UK to have a Zero Emission Zone (ZEZ), a city council has said.
The pilot, which will be introduced in August, will see non-zero emission vehicles subject to charges in certain zones, between 07:00 and 19:00.
Oxfordshire County Council approved the plans earlier after it and Oxford City Council held a series of consultations.
A wider ZEZ covering the rest of the city centre is expected to be introduced in spring 2022.
The pilot is due to start in Bonn Square, Queen Street, Cornmarket, part of Market Street, Ship Street, St Michael's Street, New Inn Hall Street and Shoe Lane, in the so-called "red zone".
The council said charging non-zero emission vehicles represented the "fairest balance between accelerating the transition to a zero-emission transport system and maintaining access".
The authority said the approach - where only electric cars will not be charged - mirrored similar schemes in London and other cities where more polluting vehicles are charged rather than banned.
The county council said it had made several changes following the consultation, including:
Residents within the zone will get a 90% discount until 2030
Businesses within the zone will get a 90% discount until 2025
Blue-badge holders exempt until 2025
Care and health workers carrying out formal duties exempt
Certain hybrid private hire vehicles will get 50% discount until 2025
Students delivering or collecting at the beginning and end of terms in "acute financial hardship" exempt
Councillor Yvonne Constance, the county council's cabinet member for environment, previously said the zone would make the city a "healthier and cleaner place for all".
Bethan Nimmo, BBC Oxford political reporter
It's a brave time to introduce the UK's first Zero Emission Zone.
Even though businesses do get a 90% discount for their own vehicles, delivery drivers won't be exempt from the charge and neither will many potential customers.
So, is the period straight after a pandemic the right moment for such a big change? Some businesses say it would be better to wait.
But those in charge believe there's no time to waste when it comes to improving air quality and tackling the climate emergency.
Related Internet Links
The BBC is not responsible for the content of external sites.