Oxford Low Traffic Neighbourhood: Foldable bollards set up after ambulance delayed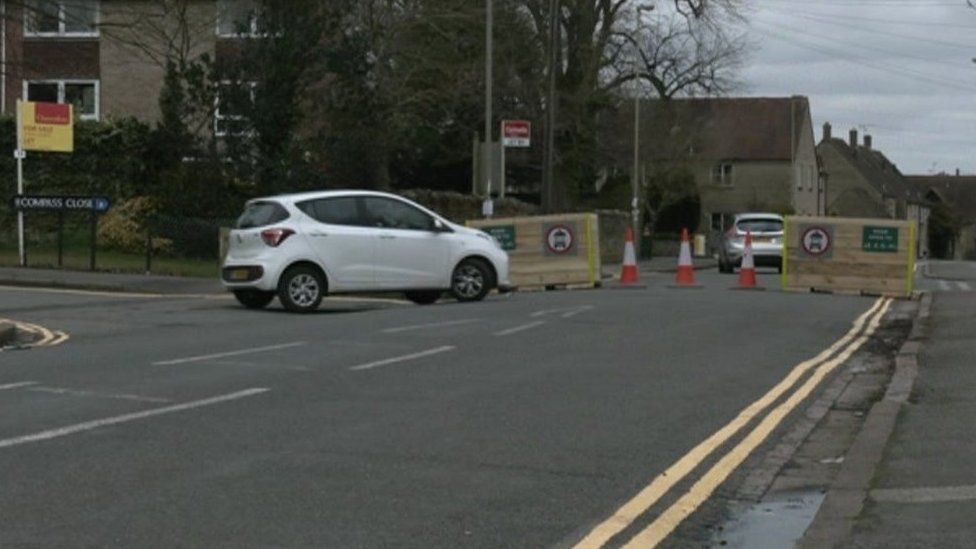 Foldable bollards will be installed in Oxford's Low Traffic Neighbourhoods to allow access to emergency services.
The confirmation came following reports that an ambulance had problems getting to a patient because of the fixed barriers.
South Central Ambulance Service said although the man died, the delay did not affect the outcome.
Oxfordshire County Council said it always intended to make the barriers foldable.
The authority began the six-month trial across Church Cowley, Temple Cowley and Florence Park in March.
The idea behind a Low Traffic Neighbourhood (LTN) is to prevent vehicles using areas as "rat runs", via the installation of planters or bollards.
The council said emergency services will now be able to cross the barriers with a key.
Bethan Nimmo - BBC Oxford political reporter
These low traffic neighbourhoods do stop people cutting through residential streets. You can get to every address on that street, but you have to approach from the correct side.
Obviously for the emergency services that could waste valuable time.
A councillor outlined a case where someone actually died after an ambulance was initially unable to get through one of these barriers.
There is still the question of whether the new system could affect response times. Stopping a vehicle, getting out, using a key and folding down a bollard is going to take up more time than just driving straight down a road.
An investigation is continuing, and the ambulance service says it will provide feedback on the LTN scheme to ensure it can be delivered without impacting response times.
The ambulance forced to make a detour was called to Littlemore Road at 12:43 GMT on 14 March.
Mark Ainsworth, director of operations at South Central Ambulance Service, said the crew "initially followed a route that was impassable" because of the LTN.
He added: "In this instance, the delay did not affect the outcome for the patient."
Mr Ainsworth said the ambulance arrived at 12:52 GMT, which was "slightly longer" than the seven-minute national target set for average response times.
However, it "did meet the national response target of responding to Category 1 calls in nine times out of 10 within 15 minutes", he said.
The fixed barriers on Littlemore Road, Beauchamp Lane and Temple Road will now be removed.
Richard Webber, spokesman for the College of Paramedics, said: "We fully understand the implementation of the traffic calming measures, but in several cases they've been brought in very quickly with very little consideration for emergency vehicle access.
"There are often cases where the ambulance is called to somebody suffering from a heart attack or a stroke, in the worst case even a cardiac arrest, where literally minutes and seconds can make a difference.
"All we would ask is that where these measures are implemented, consideration is given to access."
The council did not respond to a BBC query as to why the foldable bollards were not installed in the first place.
Related Internet Links
The BBC is not responsible for the content of external sites.