Cecil Rhodes: Refusal to remove Oxford statue a 'slap in the face'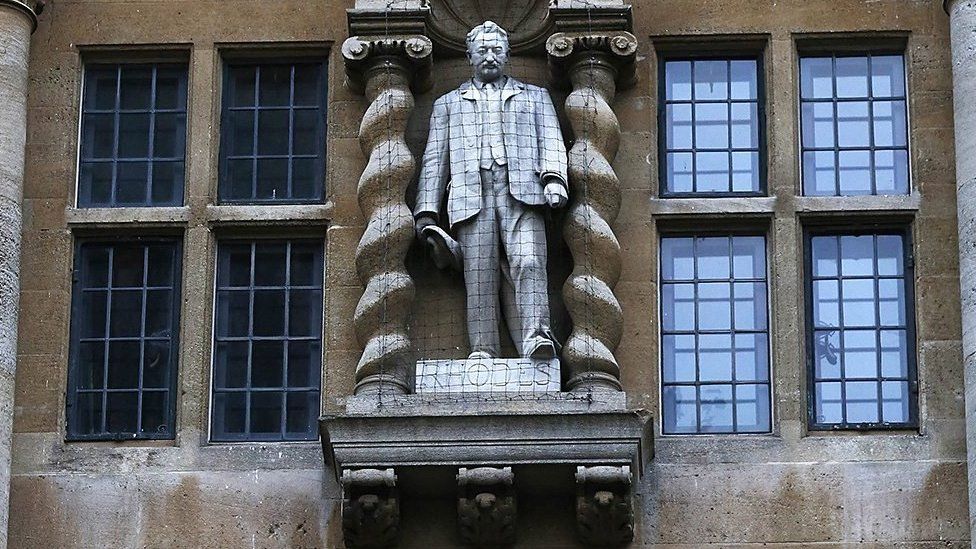 Campaigners have called the decision by an Oxford University college not to remove a statue of Cecil Rhodes an "act of institutional racism".
Rhodes Must Fall said the college's decision was a "slap in the face".
The group said it would "continue to fight for the fall of this statue and everything it represents".
He had been a student at Oriel and left £100,000 - about £12.5m in today's money - to the college through his will in 1902. His statue sits above a doorway on the front of the college's Rhodes Building, which faces Oxford's High Street.
Earlier on Thursday, a commission set up by Oriel College to examine the figure's future and Rhodes' legacy said the "majority" of its members supported its removal.
But Oriel said it would not seek to move the statue due to the process potentially taking years with no certainty of the outcome.
The college said it was focused on implementing the commission's recommendations around "the contextualisation of the college's relationship with Rhodes" and improving diversity and educational equality among students.
Campaign group Rhodes Must Fall said: "No matter how Oriel College might try to justify their decision, allowing the statue to remain is an act of institutional racism.
"Pretending that this is a choice made due to financial costs is a slap in the face with the hand of white supremacy."
The group said it would "continue to push for the removal of this harmful iconography as a critical step in the decolonisation process of the institution and the city" and would "seek to diversify our tactics moving forward".
"We urge Oriel College to reconsider their position immediately and to take steps towards reparations," the group said.
Lord Mendoza, provost of Oriel College, said the college understood "this nuanced conclusion will be disappointing to some, but we are now focused on the delivery of practical actions aimed at improving outreach and the day-to-day experience of BME students".
The college said the majority of submissions to the commission backed the retention of the statue.
Any decision to move the statue would require planning permission from Oxford City Council, Historic England and the secretary of state for local government, Robert Jenrick.
The Rhodes Must Fall campaign began in South Africa, where a Rhodes statue was removed, and was adopted in Oxford by campaigners who argued his views were incompatible with an "inclusive culture" at the university.