Didcot Power Station collapse: Expert says world is waiting for lessons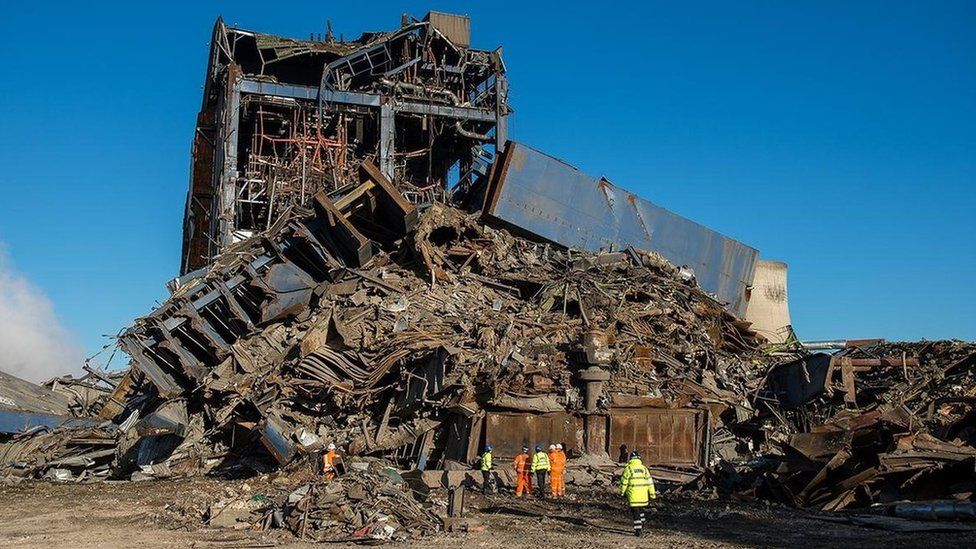 Experts around the world need to know why the Didcot Power Station collapse happened so fatal errors are not repeated, specialists have said.
The disused coal-fired plant was set to be demolished when its boiler house fell down on 23 February 2016.
Authorities continue to investigate possible manslaughter and health and safety offences after four men died.
The editor of Demolition World, Mark Anthony, said "the entire world is watching" to learn lessons.
Ken Cresswell, 57, John Shaw, 61, both from Rotherham, Michael Collings, 53, from Teesside, and Christopher Huxtable, 34, from Swansea, died in the collapse.
Mr Anthony said: "Since [the collapse] happened, I have travelled extensively. Every place I go, I'm asked about Didcot.
"We've got maybe 15 power stations to come down [in the UK] but the rest of the world has got 1,000-plus.
"Because of the changes of environmental legislation, there are hundreds and hundreds of power stations that have got to come down.
"Everybody in the industry is looking at the UK for guidance on what went wrong at Didcot so they can avoid it."
Joe Vendetti, an American demolitions specialist, said up to 150 people across the world could suffer avoidable deaths over 15 to 17 years if lessons are not learned from Didcot.
Thames Valley Police, which is leading an investigation with the Health and Safety Executive (HSE), said it was still working on the "hugely complex enquiry".
"We continue to investigate corporate manslaughter, gross negligence manslaughter and health and safety offences," a spokesperson added.
At a pre-inquest review at Oxford Coroner's Court on Tuesday, Det Supt Craig Kirby said his team had taken 2,429 witness statements and had 185,000 "digital artefacts".
Sarah Champion, MP for Rotherham, said she was "incredulous" the investigation had taken so long.
"My deep concern is obviously that the families need closure but also the same mistakes may happen again because there hasn't been an outcome that we can share with other demolition sites around the world," she said.
Related Internet Links
The BBC is not responsible for the content of external sites.