Oxford taxi drivers protest over Uber arrival in city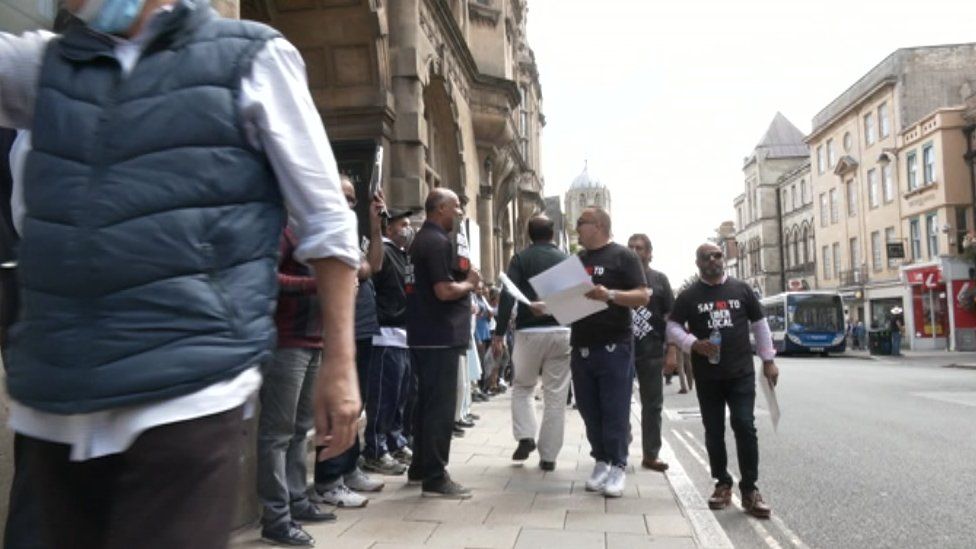 Dozens of cab drivers have protested in Oxford over Uber's new taxi service.
But other companies opposed to Uber's arrival say it will be "catastrophic" for local operators.
Uber said it was proud of connecting riders with local cab firms in towns and cities it does not operate in.
People with the Uber app through their Local Cab trial can now book a trip with 001 Taxis Oxford whose drivers are licensed in the city.
During a protest outside Oxford Town Hall, organiser Azmat Sherwani said: "Nationally Uber have not been able to get a licence in many areas, so what they've done is they've purchased the largest technology provider in the taxi industry.
"What this has allowed them to do... is enter different areas without having a licence.
"They [customers] will be arriving from London, but now they already have Uber downloaded and they'll be using that - it's going to have catastrophic effects on local drivers and local operators."
Oxford City Council said its legal team was reviewing the arrangement.
Deputy leader Tom Haynes said: "If a company as big as Uber isn't prepared to put their own application into Oxford City Council and to have their own taxis licensed here that raises concerns for me… I'm concerned about Uber trying to get in to Oxford by the back door."
The BBC understands Uber a few years ago tried to obtain a licence for Oxford, but it did not pursue its application after the council raised issues over passenger safety and environmental standards.
In a statement an Uber spokeswoman said: "We are proud of Local Cab, which connects riders who use the Uber app to local operators in the towns and cities that we do not currently operate in, including Oxford."