Oxford City Council leader wants Low Traffic Neighbourhood delay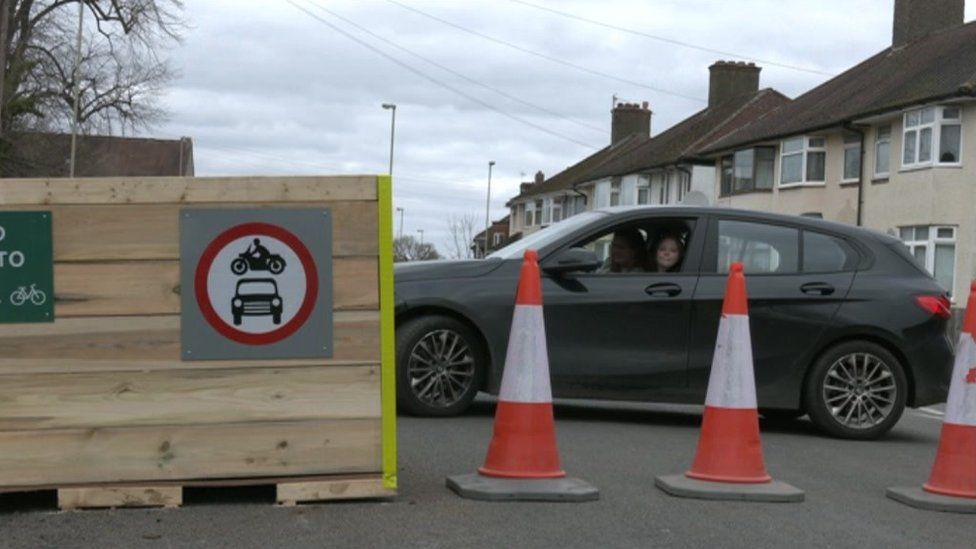 A decision to introduce a Low Traffic Neighbourhood (LTN) should be delayed, a city council leader has said.
Oxfordshire County Council's leader Liz Leffman will decide whether to allow the East Oxford LTN, which would limit vehicles on some roads, on Thursday.
Oxford City Council's leader and deputy leader have urged her to defer, so more work can be done on other city-based traffic projects.
A decision on the East Oxford LTN - which would limit vehicles in Divinity Road, St Mary's and St Clement's - had been due in July but was delayed.
Susan Brown, the city council's leader, and Tom Hayes, her deputy, says the LTN being rolled out in its current form would "risk displacing more traffic onto our main roads, creating further congestion".
They say bus prioritisation measures should be put in place "as part of an integrated and strategic approach to transport planning... not piecemeal".
Ms Brown and Mr Hayes said the councils' Connecting Oxford project, unveiled in 2019, would deliver a "more efficient bus network, alongside enhanced cycling and pedestrian infrastructure".
They also said a consultation held over the project was "not adequate".
Its officers have recommended the LTN is introduced.
If Mrs Leffman approves the plan, an experimental traffic regulation order (ETRO) would be introduced in March.
A consultation would run alongside that until August 2022.
A decision on whether to make the LTN permanent is not expected before August 2023.
The roads that would be affected by the LTN are:
Divinity Road
Southfield Road
Circus Street
Temple Street
Stockmore Street
Marston Street
James Street
Bullingdon Road
Leopold Street
Magdalen Street
Barnet Street
Howard Street
Rectory Road
Princes Street
Related Internet Links
The BBC is not responsible for the content of external sites.