Henley regatta drone crash could have been fatal, says AAIB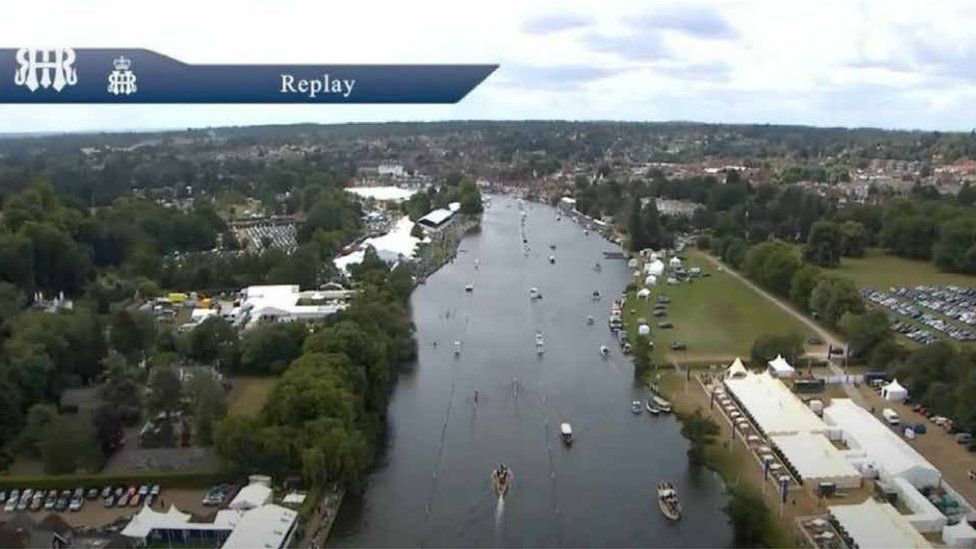 A 28kg (62lb) drone crashed into a boat at the Henley Royal Regatta, narrowly missing its occupants, before sinking in the River Thames, a report found.
The aircraft had been supplying footage of the annual rowing events when its battery ran out on 29 June 2022.
Six people had been on board the boat but no-one was injured. The boat suffered dents.
An Air Accidents Investigation Branch (AAIB) report said someone could have been killed.
It said the licensed operator could not remember checking the battery before the flight and the warning indicator had been set to a lower level than recommended by the manufacturer.
The AAIB said research showed "fatal injuries would have occurred if the 28kg aircraft falling at 30 metres per second had struck a person on the boat".
The report said, the Alta X aircraft was being commercially operated from a pontoon by the licensed pilot who, at 11:20 BST, had been filming the 35th race of the day.
According to the report, the pilot said he planned to change the batteries on every third flight but records indicated it was making its sixth consecutive flight on the same charge.
A private boat, the Celtic Queen, had been travelling on the uncontrolled side of the river, away from the racing, when a battery warning activated on the drone's controller.
The pilot tried to fly it back to the pontoon but it became unresponsive and crashed into the 20m-long (66ft) boat.
The unmanned craft dented the boat's cabin and bent a handrail before falling in the water.
A battery was dislodged and landed between two of the passengers.
The AAIB said: "Had the battery warning been set to the manufacturer's recommended setting, the aircraft may have been landed safely under the pilot's control."
Related Internet Links
The BBC is not responsible for the content of external sites.