Traders on Oswestry market fined for missing Friday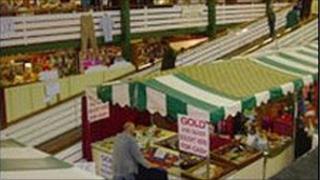 Market traders in Oswestry who close up their stalls on a Friday are to be fined.
The Powis Hall indoor market is open on Wednesdays, Fridays and Saturdays, but some traders are not bothering to open on Fridays.
Under a trial scheme from September, approved by the town council, they face a £10 fine each time they fail to open.
Traders have voiced concerns that closed and boarded up stalls were putting off visitors to the market.
Stall holder Martin Woolfe said the fines needed to be used for the benefit of the market.
"I think it may help some people to think about opening their stalls," he said.
"But if you're going to have fines then the council ought to use that money to promote the market, because unless you know the town you wouldn't know there's a market here."
Oswestry Town Clerk David Preston said the market was doing well, but a constant criticism was the number of boarded up stalls on a Friday.
"We're starting to see the market on the up and we want to get a real draw in there on a Friday - if the traders are in there we've got something to sell," he said.
"There's nothing worse than trying to sell a half empty market."