Quarry swimming fears after 'idyllic' photo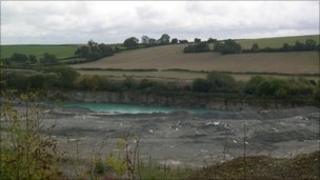 Police are warning young people not be tempted to swim in a quarry after photos of it appeared on a social networking site.
The pictures of Wenlock Quarry, near Much Wenlock, make it look like "an idyllic, blue pool surrounded by greenery", police said.
But, in fact it is incredibly deep and cold, posing a real risk to even strong swimmers.
"A refreshing dip to cool down just isn't worth the risks," police added.
'Sudden temperature change'
Pc Stuart Lippitt said as well as young people swimming in the quarry, he had also come across adults taking their young children and toddlers there.
"It is usually impossible to gauge the depth of such water and, if you do not know the water level, jumping or diving in can cause serious injury or drowning," he said.
"In addition to that, the water will be very cold in contrast to the warm air and your body temperature.
"The sudden change in temperature when you jump in can create a problem for even the strongest swimmer.
"I would urge anyone, no matter how skilled or strong a swimmer they might be, not to be tempted by any rivers, lakes or pools no matter how hot it might get."