Warning of £100 fine over 'wrong' recycle bin items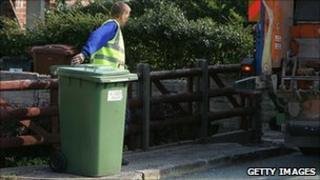 Residents in parts of Shropshire have been warned they could face fines of up to £100 for putting the wrong items into their recycling bins.
Tim Sneddon, of Shropshire Council, said the crackdown was because items like gas bottles could "contaminate" recycled loads from green bins.
Residents may also be fined for leaving their bins out for too long.
The problem is costing money at a time the council is cutting £60m from its budget over the next three years.
Councillors also say they will be adopting a new "zero-tolerance policy" on litter.
Mr Sneddon, who is head of environmental maintenance at the council, said: "We found that people are putting gas bottles and domestic waste - normal household waste, tin cans and everything - into the green bins.
"And that would potentially contaminate the load and prevent it from being composted."