Dawley's Hollywood-style sign taken down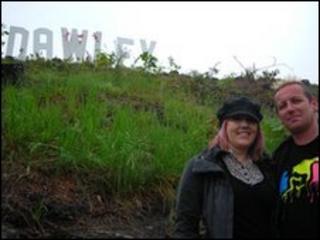 An illegal "Hollywood-style" sign above a Shropshire town has been removed, possibly by vandals.
The 4ft (1.2m) high Dawley sign was put up by resident Chris Hoofe without council permission in Paddock Mount over the May Bank Holiday.
Telford & Wrekin Council said it could stay temporarily, accepting the "light-hearted spirit" behind it.
The council said it had not removed it but understood the sign had been vandalised.
A spokesman said: "We certainly did not remove it and we had no plans to do so.
"As long as it was not a safety issue, we had no problem with it."
Councillor Shaun Davies, chairman of policy at Great Dawley Parish Council, said the council was to meet next Thursday to discuss the sign and those who put it up had been invited.
Mr Hoofe could not be reached for comment.