Listed hotel in Shrewsbury undergoes £1m revamp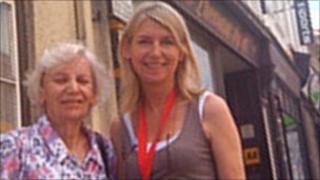 A Grade II listed hotel in Shropshire is undergoing a £1m revamp.
The Chidlow family bought the Lion and Pheasant Hotel in Shrewsbury in the 1970s and refurbished it. Now their daughter is overseeing the work.
The earliest records for the hotel date back to the 1700s although parts of the building date back to the 16th Century, owner Dorothy Chidlow, 85, said.
Mrs Chidlow said she was proud her architect daughter, Rachael, was in charge of the project.
"It's great because she's keeping it in the family," she said.
"She's carrying on what her father did."
She added that the hotel, which closed in 2008, was an important building in Shrewsbury.
"The last cock fight in Shrewsbury was held here and the police raided it but they waited for the fight to finish because they had got the mayor and council there."