Fire sees Shropshire family flee hotel in Greece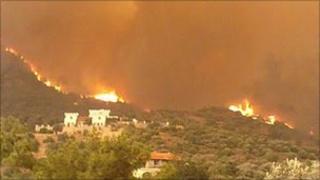 A family from Shropshire are among numerous holidaymakers to be told to leave their hotels due a large forest fire on the Greek island of Samos.
Chris Williams, from near Church Stretton, said the fire had skirted their hotel and water from the pool had been used to damp down nearby land.
His family was moved to the other side of the island but have now been told it is safe to return to their hotel.
Reports said more than 150 firefighters and volunteers helped contain the fire.
It is thought it started in a ravine on Monday afternoon.
'Village evacuated'
Mr Williams said the fire had increased in ferocity on Tuesday and he could see huge flames, higher than local buildings.
"It made its way down the ridge on the mountain behind the hotel.
"It came down into the village where we were staying to within a few hundreds yards of the hotel.
"As a consequence, the whole village had to be evacuated to a place of safety further along the coast."
He said people had been very calm and the evacuation had gone smoothly.
The family is due to return to the UK at the end of the week, he added.