Body found in Shropshire lake search for best man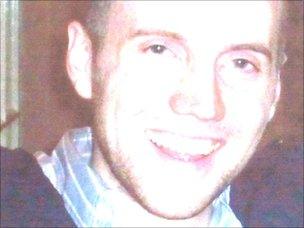 A body has been found in the lake search for a best man who went for a swim at a wedding reception in Shropshire.
Patrick Cody, 26, from Sedgley, Dudley, was last seen swimming in a lake at Patshull Park Hotel, Pattingham, at about 2300 BST on Friday.
Guests raised the alarm when they heard Mr Cody, one of three best men at the wedding, calling for help, police said.
Police have confirmed the body found at about 1900 BST on Monday is Mr Cody.
It was found just as the Nottinghamshire Police underwater search team was about to retire for the night.
Mr Cody was a best man for David Abbiss, 26, with whom he had been friends since his school days.
Det Insp Matt Derek, of Staffordshire Police, said witnesses had reported hearing shouts from the lake.
"Cries for help were heard, which we obviously assume came from Patrick and a short while later there was silence, obviously there was great concern for Patrick by the lakeside," he said.
The "devastated" newlyweds left for their honeymoon on Sunday on the advice of their family, Mr Cody's uncle John Corser said.
"Up until that point it had been a perfect day, a great event for Sarah and David's family and friends. They are all so upset by this," he added.
Mr Cody graduated from Keele University in Staffordshire and was due to go back to university in Birmingham to start teacher training.
His family said he was a friendly, popular and much loved son, brother and friend.
"He had a passion for music, literature and sport and a lively sense of humour," they said in a statement.
Related Internet Links
The BBC is not responsible for the content of external sites.