Shropshire man in plea for help to open garden safe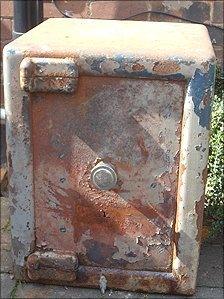 A Shropshire man has appealed for help to open a large safe in the garden of a house he has renovated.
Property developer Richard Eley has tried drilling the lock of the safe in Newport and using a hammer, chisel and circular saw - all without success.
Mr Eley hopes that the safe, which was at the property when he bought it, will be his "ticket to Barbados".
He said he would like to "split the booty" with the successful safe cracker and make a donation to charity.
Mr Eley said: "The thing is you could cut the hinges off, but there are still two bolts going through the doors.
"You could drill the lock and there's still two bolts going through the doors."
The property developer described it as "very well made" and "a good old safe".
"It's obviously been here a long time.
"I don't think it's an easy one to get into, otherwise somebody would have already got into it.
"There may be somebody out there who knows what to do.
"There could be something very valuable in here."
Mr Eley said he could "just about slide it and move it".
He added: "Obviously if it's owned by somebody, we'd like to return it to the owners.
"If there's anything of any value in there, I would like to split the booty with the successful safe cracker and I'd also like to make a donation to Help for Heroes."
The charity helps wounded armed service personnel.