Telford firm hopes for £20m Olympics mascot boost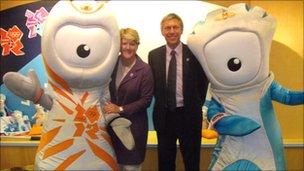 A Shropshire firm which is to make toy mascots for the 2012 Olympics says it will bring up to 15 jobs to the county.
Telford-based Golden Bear said the contract to make toys of mascots Mandeville' and Wenlock would boost sales by £20m.
The toys will be make in China but chairman John Hales said the work would create distribution jobs in Shropshire.
One mascot was named after the Wenlock Olympian Games which provided the inspiration for the modern Olympics.
The mascot for the London Paralympic Games has been named Mandeville, after the famous spinal injuries hospital in Buckinghamshire.
The Telford firm is planning to make bean toys, key rings and rucksacks based on the two characters.
Mr Hales said it would be a "considerable operation".
"There's a recession, times are tough and we are trying to be proactive and do something about that," he said.
Related Internet Links
The BBC is not responsible for the content of external sites.