'More guns' in Shropshire since Pc's 2007 shooting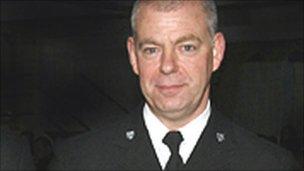 The number of guns registered in Shropshire has risen by a third since a policeman was shot dead in 2007, a BBC Freedom of Inquest request has found.
Pc Richard Gray, 43, was shot while attending a domestic dispute in Castlefields, Shrewsbury, in May 2007.
Shropshire now has 6,252 registered guns - 1,728 more than 2007.
West Mercia Police said the rise was partly a result of improvements made to the recording of licences following the officer's death.
The number of gun certificate holders remains about the same at 2,553.
Pc Gray was shot by 33-year-old Peter Medlicott who later killed himself. The policeman had been part of an armed response providing back-up because two colleagues were being held at gunpoint.
At the inquest into the officer's death, coroner John Elleray recommended that West Mercia Police change their licensing practices.
The force, which was criticised by the lawyer of Pc Gray's widow for not revoking Medlicott's gun licence earlier, say they have since made a number of changes.
It said the rise in registered guns, identified by a BBC Radio Shropshire FOI request, was partly a result of this.
"The firearms recording system has improved since its implementation," a spokesman said.
"Therefore the increase may be attributable to a combination of more accurately recorded figures and the annual increase. "
He said the force had also improved information exchange between custody suites and its firearms licensing department so they could remove firearms and certificates from people who were arrested.
It has also improved the training of control room staff and upgraded IT systems to improve information gathering.
An Intelligence Support Unit has also been created which operates around the clock to ensure officers on the ground can access the latest information.