Man tells of text message Mont Blanc mountain rescue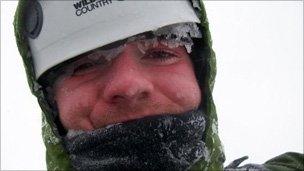 A man has described how he helped save two friends stranded 3,500m (11,500ft) up western Europe's highest mountain after they sent him a text message.
Finn McCann and Tom Greenwood, both 23, become trapped on Mont Blanc after a storm broke out on Wednesday.
Chris Shannon, of Shrewsbury, said the first text from the experienced climbers asked about weather conditions.
"Then it just said 'can you call mountain rescue'," he said.
Mr Greenwood, who had dislocated his shoulder, and his friend were forced to spend the night on the Aiguille Noire de Peuterey peak.
The pair have described how they were stranded on a tiny ledge above a huge drop and were worried about getting hypothermia.
They tried to contact the emergency services but were unable to do so and with limited mobile phone battery they texted Mr Shannon.
Mr Shannon said: "I didn't take it that seriously at first but then they called me up and as the situation became more serious I set about contacting the appropriate people.
"They had just given me their position on the mountain and basically said their phones were dying and left it up to me."
Mr Shannon contacted French mountain rescue after an internet search for phone numbers and they put him in touch with their Italian counterparts.
He said it led to "long-winded broken English conversations" as he liaised with the authorities so they could reach the climbers.
He kept the worried mountaineers updated on the progress made.
Two attempts to reach the pair were unsuccessful, but a helicopter managed to reach them during the third try and take them to the town of Courmayeur, at the bottom of the mountain.
Mr Shannon said his "hardy" friends loved a challenge but were not irresponsible.
"They would have made all the correct decisions throughout," he said.
"So I think they were just more unfortunate with the weather situation than that they were taking any unnecessary risks there."
Mr Finn's mother Anna, who did not hear about the rescue until after it had taken place said she was "totally relieved".
"And what I'm especially relieved about is that I wasn't part of the rescue and I only heard about it all once they were back safe and sound," she added.
Related Internet Links
The BBC is not responsible for the content of external sites.