Telford women in high heels hill feat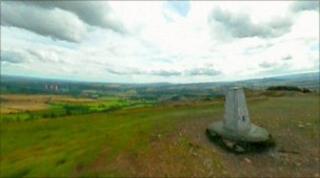 Three women are walking up a 1,334ft (406.6m) Shropshire hill to raise money for charity - wearing their high heels.
Marianne Morris, her sister Sarah and their mother Sue are walking all the way up The Wrekin.
Proceeds will go to the Help For Heroes charity, which raises funds for wounded service personnel and their families.
Marianne Morris, who will be wearing four inch peep toe leopard print platforms, said they were determined to do it.
She said she wanted to raise money for the charity she fully backed.
Summit bid
"We are going to get weird looks but hopefully we'll have lots of support behind us."
"I have lots of friends in the Army and quite a lot of my family are in the Army," she said.
"So it's for a good cause and I back it all the way."
Her mother Sue, who will be wearing heels up to three inches high, said she was "dreading" walking on looser shingle near the summit but was pleased she was taking part.
The sponsored trio will also be wearing Help the Heroes t-shirts and fancy dress.
Ms Morris added: "We'll be wearing bright coloured leggings, tights, leg warmers, tutus, eyelashes - the works."
She said her advice to the group was to "hold onto anyone you can find" to remain balanced.