Family death father 'overcharged customer £500,000'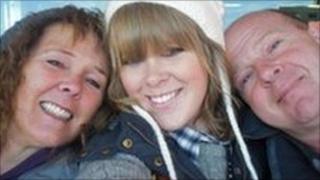 A florist believed to have killed his family was accused of overcharging customers and threatened with the police, an inquest heard.
Hugh McFall is thought to have murdered wife Sue and daughter Francesca at their home in Oswestry, Shropshire, in February before taking his own life.
The pair were found together on a bed. Both died from head injuries.
The owners of the store he supplied said they could have overpaid as much as £500,000 over seven years.
They confronted him about their accounting irregularities the day before he died and threatened him with police involvement, the inquest heard.
The 48-year-old's contract with the Stan's Superstore in St Martins, which was about 90% of his business, was also suspended.
The hearing heard that Mr McFall told the owners he would prove with invoices that he had not done anything wrong.
His 56-year-old wife and 18-year-old daughter were found dead together on a bed at the family home on Hampton Road the next day.
Sgt Richard Coles told the inquest that he found a note near the teenager's body.
It read: "I love you more than I have ever loved anything. I could not let you suffer." It was signed "Daddy".
Mr McFall was found hanging in an industrial unit later the same day.
A computer expert and senior forensic investigator told the inquest he had examined two computers as part of the investigation, one from the McFall's home and the other from his business premises.
'Signs of struggle'
Richard Roberts said someone had been accessing pornography, escort and massage parlour sites and seeking advice for diagnosing HIV.
The computer at the family home was used by someone using the login "Hugh".
The person who logged in as Hugh had in 2009 also looked at stories relating to a businessman who was thought to have murdered his family before torching their luxury home in nearby Maesbrook the year before, he added.
There had also been searches for torture methods adopted by former Ugandan dictator Idi Amin and information about euthanasia.
The inquest, Shrewsbury Magistrates' Court, heard that post-mortem tests found Francesca was hit on the head at least five times and her mother once, probably while asleep.
A rubber mallet was found by Mrs McFall's feet.
Paramedic Victoria Messon described how she was unable to detect any sign of life in either of the women, but concluded that Mrs McFall had died before her daughter.
Home Office pathologist Alexander Kolar said there were signs Francesca had put up a struggle and there were injuries to her hands and evidence she may have been dragged to the bedroom.
The inquest is expected to last two days.