Telford Ice Rink visitors down by 38,000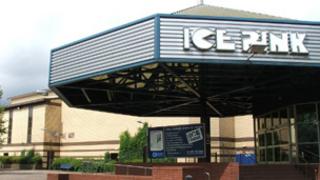 A council-run Shropshire ice rink saw its customer numbers fall by more than 38,000 in a year, costing the authority about £20,000.
A total of 225,598 people paid to visit Telford Ice Rink between April 2009 and April 2010, compared to 264,281 in the previous 12 months.
The Telford & Wrekin Council figures were released following a Freedom of Information request by the BBC.
Income from visitors to the facility fell from £937,874 to £917,534.
The council said it was looking for a private firm to lease the facility off the authority.
Angie Astley, head of leisure and customer services, said she thought there were two reasons behind the fall.
'Sustained itself'
She said one was transport costs, because a lot of customers travelled from outside the borough.
"The second is, in my opinion, linked to the TV programme Dancing on Ice, which started about five years ago," she said.
"When it did we saw a massive increase in the number of people wanting to ice skate and that's sustained itself for about four years.
"We cover our costs. We bring in about £1.2 million, so £20,000 is a tiny, tiny drop."
She added the ice rink was a key part of the Southwater regeneration plans for the town centre.
She said she hoped people would express an interest in leasing the rink by 28 September.