Charity buys £35,000 equipment for Telford hospital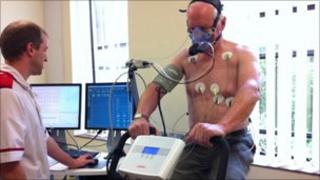 A hospital charity has bought a £35,000 piece of equipment which will test the fitness of patients before they have major surgery.
The Friends of the Princess Royal Hospital in Telford bought the Cardiopulmonary Exercise Testing Machine, which is used like an exercise bike.
It will assess how long patients will need to recover from operations.
Dr Angelica Schirge said it may also help to identify heart problems.
The consultant anaesthetist said it may be necessary to treat such problems before people underwent major surgery.
The machine monitors heart rates, blood pressure and the amount of oxygen in the blood during exercise.
Dr Schirge said it would assess patients' fitness levels.
"The fittest patients will, for example, be able to go back to the ward straight afterwards, whereas before we put them all on the intensive care unit, so that's saving the hospital some money."
The machine may be used by people ahead of operation such as major renal or vascular surgery, she said.