Appeal after ancient Egyptian ring stolen in Shropshire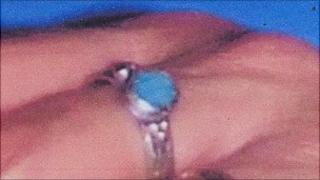 Police are trying to trace an ancient Egyptian ring which was stolen during a burglary in Shropshire.
The 2,500-year-old silver ring with a turquoise stone was taken with cash and a large amount of jewellery from a house between Bagginswood and Farlow.
Det Con Jason Whelan said: "This is a unique, 2,500-year-old piece of jewellery that the owners say is impossible to put a value to."
The burglary took place when the occupants were away at the end of July.
Other jewellery stolen included a tri-colour gold necklace with a zig-zag pattern, three gold rings belonging to the victim's mother, a pair of silver earrings from Mexico and an Arabic silver bracelet with dark grey and blue stones.
West Mercia Police want to hear from anyone who may have been offered the jewellery to buy.