New Bishop of Shrewsbury hoping for long career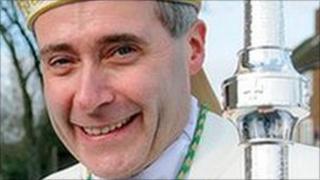 The newly appointed Roman Catholic Bishop of Shrewsbury says he hopes to serve the people of Shropshire for the next 25 years.
A Mass at Shrewsbury Cathedral on Friday saw the Right Reverend Mark Davies, 51, officially installed.
He has succeeded 74-year-old Bishop Brian Noble, who had been the bishop for 15 years.
The retired Archbishop of Westminster, Cardinal Cormac Murphy-O'Connor, was among invited guests at the Mass.
Bishop Davies has been a co-bishop in Shrewsbury since his ordination in February this year and has been working alongside Bishop Noble since then.
He spent 26 years as a priest with the Diocese of Salford.
Of his latest appointment, he said he was "quite unexpectedly" summoned to London before Christmas, and was asked if he would accept the new role.