Shrewsbury school roof damaged in heavy rain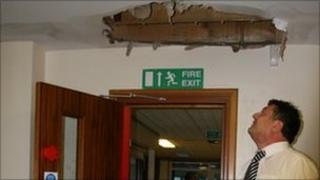 Heavy rain in Shropshire has caused a primary school to close, after part of the roof caved in.
The damage at Greenfields Primary School in Shrewsbury was discovered by staff when they arrived for work.
The school is closed for the day but head teacher Andrew Morris said he hoped it would reopen on Tuesday.
He said the heavy rain seemed to have soaked through the plasterboard ceiling and added some heavy breeze blocks around the pipes had fallen.
Work to build an extension was also taking place, Mr Morris, said, and there was a chance the rain could have seeped into the ceiling between the two buildings.
The school and its nursery has 330 pupils.
Flash flooding elsewhere in Shropshire led to 6in (15cm) of water getting into a Bishops Castle house and water to get into the electrics at a home in Telford.