British Airways Boeing 757 renamed Stokesay Castle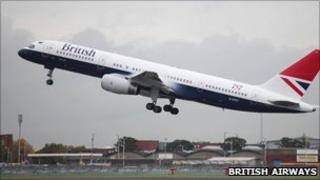 The last of British Airways's fleet of Boeing 757s has been renamed after Stokesay Castle in south Shropshire.
The aircraft was bought in 1997 and, unlike the rest of the fleet, has only been known by its registration G-CPET. The aircraft retires on 30 October.
The name was chosen by Captain Tim Byatt, 39, from Whitchurch in Shropshire, who led the project for BA.
Captain Byatt said he had been to the castle "many times" with his family and "loved the place".
The first of BA's 757s entered service in 1983 and were named after castles.
Original livery
At their peak, the company operated 54 Boeing 757s, but only three are still flying from their base at Heathrow Airport.
To mark the work of the aircraft over the past three decades, BA has also repainted the newly-named Stokesay Castle in the original 1983 livery.
The British Airways fleet of 757s are being replaced by newer models, including the Boeing 777-300ER.
Captain Stephen Riley said the 757 had been "at the cutting edge" of 1983 aviation technology.
Laura Brookes from English Heritage, which owns Stokesay Castle said: "We're absolutely delighted.
"Stokesay Castle is a hidden gem of the West Midlands. I'm just so pleased it's going to get... international exposure."
Stokesay Castle, near Craven Arms, was built as a medieval manor house and fortified in the late-13th Century.