RAF Museum appeal over Polish pilots tribute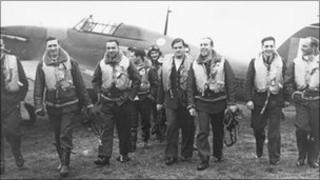 A museum is appealing for help from the Polish community ahead of a tribute to pilots involved in World War II.
On Monday a podcast will mark the 70th anniversary of the withdrawal of 303 (Polish) Squadron from the frontline defending London and the south east.
It appealed to Polish people who served in the RAF, or had family members who did so, to share their memories online.
The RAF Museum Cosford will put an engine from a Hurricane flown by a pilot from the squadron on show.
It will be on view between 15 and 20 November at the museum's Michael Beetham Conservation Centre and will eventually go on permanent display.
The podcast, in Polish and English, will focus on key personalities.
It will also examine some of the prejudices that Polish people had to overcome from within the RAF, with some concerns being expressed over language, the museum said.
'Exceptionally successful'
A spokesman added: "Some of the concerns were quite valid.
"But all the members of the Polish air force who signed up to the RAF had seen combat service, such as in Poland and in the Battle of France.
"That was one of the reasons why they were so effective."
Peter Devitt, of the Royal Air Force Museums, said the podcast would mark the anniversary of the withdrawal of No. 303 (Polish) Squadron from the frontline defending London and the South East "after an exceptionally successful period in action".
He added: "They destroyed 126 enemy aircraft and became the most successful fighter command squadron in the Battle of Britain.
"303 Squadron became the most celebrated Polish unit throughout the war and would fight with skill, courage and great success until the defeat of Hitler's Germany in 1945."
The tribute initiative involves the RAF Museum in London and RAF Museum Cosford in Shropshire.