Coroner in plea to Shropshire Council over river safety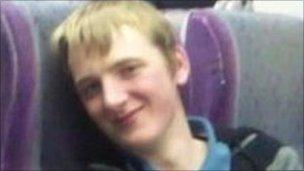 A coroner said he would write to a council to ask it to investigate river safety after a verdict of accidental death on a young man was recorded.
The body of Hayden Reynolds-Evans, 18, from Shrewsbury, was found in the River Severn in the town in March.
Coroner John Ellery wrote to Shropshire Council before about the river around the time of a previous inquest.
The council said land along the river was managed by various landowners and they were working together.
On 1 February Mr Reynolds-Evans had travelled to Liverpool for a friend's birthday, Shrewsbury Magistrates' Court heard.
They had been drinking all day, on the train up, in Liverpool and they had a bottle of vodka on the train down, the court was told.
It heard Mr Reynolds-Evans was due to play darts at the Bird in Hand, he was late and he ran off leaving his friends at Shrewsbury station.
He was next seen holding a vodka bottle by the landlord of the Albion Vaults pub, who refused to serve him because he was drunk, the inquest was told.
The body of Mr Reynolds-Evans, from Castle Street, Shrewsbury, was found on 13 March.
The coroner said: "I've heard no evidence of self harm or suicide at all."
He ruled out foul play on the basis that forensic reports showed no evidence Mr Reynolds-Evans was attacked.
He also ruled out suicide after various witnesses said Mr Reynolds-Evans was happy at the time.
The coroner read a statement from the West Mercia force, which said police have been called to 94 incidents in or near the River Severn in Shrewsbury in the past six years.
There had been 23 deaths in the river in the town, the inquest heard.
Mr Ellery addressed the family in connection with writing to the council again.
He said: "I know this will give no comfort to you, but I'm going to do it regardless."
In a statement, Tim Sneddon, the council's head of environmental maintenance, said: "The land alongside the river is managed by various different landowners.
"We are all working together to raise awareness of the dangers of the river and we have already completed a number of measures to make it safer."
He said these measures have included installing additional life buoys alongside the river and reviewing all inspection and maintenance procedures and policies.
Mr Sneddon added that a weekly meeting was being held with Shrewsbury Town Council "to ensure that the medium and longer term measures are evaluated and progressed as soon as possible".
Related Internet Links
The BBC is not responsible for the content of external sites.