Shrewsbury drinkers warned of River Severn death risk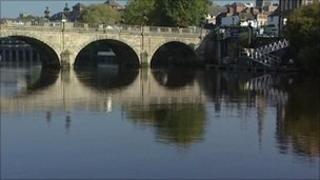 Drinkers in Shrewsbury are at risk of drowning on their way home from pubs, clubs and bars, surrounded by the River Severn, police have said.
The proximity of the river to the town centre means that whichever way people choose to walk home, they have to cross the river or walk beside it.
West Mercia Police said there had been nine accidental drownings in Shrewsbury out of 23 river deaths since 2004.
Ch Insp Martin Whitelegg said people had a duty to see friends home safely.
He said it was not economically feasible to put barriers along the length of both sides of the river bank, but strategic use could be made of gates to seal off steps leading down to the river at night.
River safety investigation
More work could be done with landlords, taxi firms, and marshalls to raise awareness of river drowning dangers and to help customers get home safely, he added.
Shropshire coroner John Ellery has twice highlighted the problems of accidental river deaths in the county town, when summing up inquest verdicts.
After the inquest last week of Hayden Reynolds-Evans, 18, from Shrewsbury, whose body was found in the River Severn in March, Mr Ellery said he would write to Shropshire Council asking it to investigate river safety.
In the past six years there have been 94 cases of people falling into the water in Shrewsbury, which resulted in 23 deaths, of which nine were accidental.
Common factors
Shropshire Council and the police force is consulting the City of York Council, which has similar issues with its night-time economy being situated close to the River Ouse and River Foss.
In York there have been two river deaths per year on average in the past six years, which includes suicide attempts.
Jim Brean, emergency planning co-ordinator for the City of York Council said: "The problem here is not as severe as in Shrewsbury but there are certain common denominators to the accidental deaths, they are usually males in their late teens to mid 30s and invariably alcohol is involved."
He said railings were impractical along the whole river's length and more work needed to be done to identify if there was a common point where people fell into the river, to target safety measures.