More Shropshire schools could be merged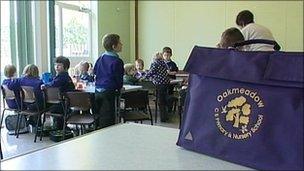 More schools could be merged in Shropshire, the BBC has learned.
Shropshire Council, which wants to save £1m a year, said it was looking at merging some schools and sharing staff.
But Aggie Caesar-Homden, the council's cabinet member for children and young people, said comments she made to BBC Midlands Today had been taken out of context.
A report will be considered by the Conservative-controlled council's cabinet in November.
The cabinet member was asked by BBC Midlands Today "would you... consider closing or merging schools?"
She replied: "We are looking at merging schools.
"Some schools are already in the process of doing that, yes."
In the interview, she also said: "The main focus on this is that we continue to deliver first-class education for our children in Shropshire.
"If by working together we can achieve that in a more economical way, then that makes absolute sense to me and it will make absolute sense to the taxpayer as well."
In a later BBC Radio Shropshire interview, she said: "My response was that we have had previous mergers, because that was the context of the interview.
"We were looking, as I said, at the good amalgamation that we have at Oakmeadow primary and that's why we had that interview."
Related Internet Links
The BBC is not responsible for the content of external sites.