RAF Cosford jobs move put on hold as academy scrapped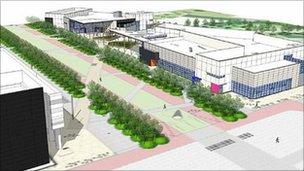 Plans to move hundreds of jobs from a Shropshire base to a new £14bn defence training academy in south Wales have been put on hold by the government.
The jobs were expected to move from RAF Cosford to a new Defence Technical College at Vale of Glamorgan by 2014.
But the St Athan project was axed as part of an expected reduction of up to 8% in the government's defence budget.
However, the government said it hoped some future form of defence training would be based at St Athan.
The previous government was working with the private consortium Metrix to provide the new centre.
Defence Secretary Liam Fox said in his ministerial statement: "It is now clear that Metrix cannot deliver an affordable, commercially robust proposal within the prescribed period."
The minister said the project and Metrix's appointment as preferred bidder had been terminated.
The headquarters of the Defence College of Aeronautical Engineering, at RAF Cosford near Shifnal, had been expected to move to the new facility by 2014.
However, Mr Fox said the government still hoped to base its future defence training at St Athan and would work on alternative options in the spring.
Mark Pritchard, the Conservative MP for The Wrekin, said he would study the finer details of the decision but it was "extremely good news" for RAF personnel at Cosford and for the county.
"What the statement means is that Cosford does have a future - it has a secure future," he said.
"It has an immediate future and of course that is good news."
The MP said he had always believed that privatising defence training was "not in the national interest".
He added although a further announcement was expected next year it may be delayed.
Telford & Wrekin Council leader Andrew Eade said: "On the face of it, this could be excellent news for the borough and could help retain the range of services at RAF Cosford.
"This council, together with many partners in the West Midlands, fought long and hard for Cosford to be the new national training defence site before the decision was made to move [this] to St Athan in 2007.
"We await to see the precise detail of what today's announcement will mean.
"But it is a great opportunity for us to again push the excellent facilities at Cosford as the most cost effective way forward and we will be taking this up with the government."
Related Internet Links
The BBC is not responsible for the content of external sites.