Telford and Wrekin Council 'to lose jobs' after cuts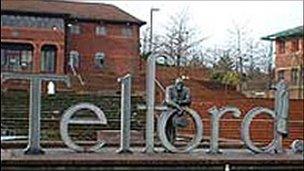 Job cuts will be inevitable as a result of Spending Review cuts, the head of a Shropshire council says.
Local authorities were told they faced cuts of 7.1% each year over four years as part of the government's drive to reduce its £155bn deficit.
Telford and Wrekin Council head Victor Brownlees said some posts would be cut but it would try to limit redundancies.
He said the council aimed to redeploy staff to other suitable jobs.
Mr Brownlees said: "It would be ridiculous of me to sit here and say there won't be job losses as a result of this, yes there will be.
"The issue for us is to manage that in a way that isn't driving people out of necessary jobs and making people unnecessarily redundant."
The chief executive said where posts were cut, other suitable jobs would be sought for workers under a council scheme.
He said the council had been planning for tough cuts for 18 months and the level of savings announced was "no surprise".
The council would have to save between £25m and £30m over the next four years, he added.
About £15m of savings had already been identified and the remainder was being looked at via moves such as sharing services with other councils.
Mr Brownlees added the full situation would be known in December, when the council found out what grants it would receive.
Meanwhile, Shropshire Council said it would have to make cuts of at least £3.5m above what it was already planning.
Its chief executive, Kim Ryley, said the council was still looking at the details but the review was a "little worse than we planned for".
The government's cuts aim to reduce the budget deficit which hit a record £155bn in the 2009/10 financial year.
Related Internet Links
The BBC is not responsible for the content of external sites.