Grant cuts to arts groups in Shropshire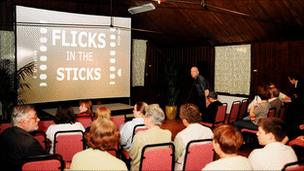 Shropshire arts groups will lose a total of £36,000 in Arts Council grants next year.
Arts Council England (ACE) faces a 30% budget cut following the government's Spending Review.
The organisation, which funds the arts across the country, is cutting grants in Shropshire by nearly 7% for 2011-12.
Ian Kerry, director of Arts Alive, which organises a range of activities across Shropshire, said the cuts were "not as drastic" as he had expected.
The grant to Arts Alive, which includes Flicks in the Sticks, will be cut next year by £4,331 from £63,089 to £58,442.
Mr Kelly said he was breathing a small sigh of relief, while at the same time remaining cautious as he had yet to hear about cuts that may come from the organisation's local authority partner.
He added that it would be spring next year before they knew the full impact of cuts from other partners.
Shropshire's Pentabus Theatre will lose the most in the county, with a cut in its grant of £13,804 from £201,061 to £186,252.
Blue Eyed Soul Dance Company, Dash (Disability Arts in Shropshire), and the Ludlow Assembly Rooms also face cuts in their Arts Council funding next year.
Commenting on the announcement, Paula Redway, director of Ludlow Assembly Rooms, said a one-year settlement would make it difficult to plan for the long-term future.
Related Internet Links
The BBC is not responsible for the content of external sites.