'Work hope for 2011' at ex-Shrewsbury Town site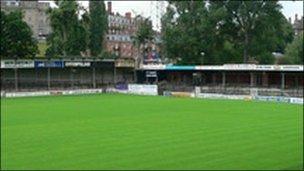 Work on a site, where Shrewsbury Town Football Club used to play, could start next year.
Barratt Mercia planned homes where Gay Meadow was demolished after the club moved in 2007. But building work was delayed due to the recession.
Shropshire Council said there were "ongoing pre-applications discussions" over the development of the site.
It was the club's home for 97 years before Shrewsbury moved to what is now called Greenhous Meadow.
Speaking about the former Gay Meadow site, Jon Rowson, planning manager at Barratt Mercia, said: "We are currently exploring the options for this site and hope to commence work in 2011."
The council added: "A range of housing options are being explored by the applicant to ensure a good mix of housing on the site.
"No further planning application has been submitted for this site".
Related Internet Links
The BBC is not responsible for the content of external sites.