Extraction starts at Shropshire's demo-hit UK Coal mine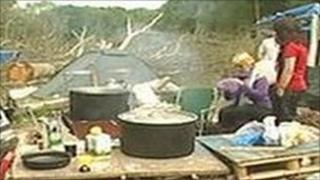 Extraction has started at an opencast mine in Shropshire where protesters have been encamped since January.
UK Coal was given permission last year to extract 900,000 tonnes from the New Works site, near The Wrekin area of outstanding natural beauty.
Eco-protestors said mining would damage the beauty spot and pose a health risk to 11,500 neighbours living 250m away.
The firm plans to transport coal off the site before Christmas. Campaigners said they would continue to protest.
UK Coal said the seam it had accessed was very shallow and it expected to be able to begin transporting coal to Ironbridge power station in Shropshire or Ratcliffe-on-Soar power station near Nottingham within the next few weeks.
Legal hopes
A spokesman for the firm said the protesters were not causing them any trouble and work was progressing well.
"We would ask them to heed the wishes of local residents who said having made their point, they would now like the protesters to leave," he added.
Pat, a former protester who left the site due to ill health six weeks ago, said: "There are still people encamped at the site and they are going to continue the protest."
He said the protesters were hopeful that a law on Opencast mining separation zones would be changed in February to make it unlawful to mine so close to residential areas, outlawing the extraction.
He said the protest was still relevant because the campaigners could still inconvenience the firm and make it think again about their environmental and health concerns.
"UK Coal has two sites, a north site and a south site. When they move onto the south site and start using the internal haulage road, that is where the protesters are," he added.