Students hold protest march in Shrewsbury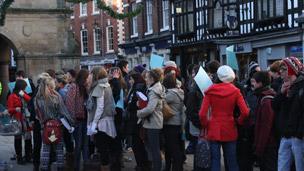 More than 100 Shropshire students have walked out in a protest over proposed government education cuts.
Students from Shrewsbury Sixth Form College took to the streets of the town waving banners and chanting.
The organiser of the protest, Ryan Allen from Telford, said they opposed the coalition government plan to cut the Education Maintenance Allowance and raise university fees.
He hoped the action would persuade the government to change its mind.
Mr Allen said the students should not suffer for the country's financial problems.
He said: "It's a crisis caused by the bankers and therefore we think that working class people shouldn't pay and they should be entitled to an education."
He said there were other ways to save money.
"We could pull out of Afghanistan, we could cut Trident, we could stop giving bankers bonuses," he said.
He said he hoped a Commons vote next Thursday would go against the government.
"My ideal scenario is that there is enough rebel Lib Dem MPs and there's enough votes against the tuition fees rise so that the bill isn't passed," he said.
Related Internet Links
The BBC is not responsible for the content of external sites.