Telford roundabout TV claim 'is urban myth'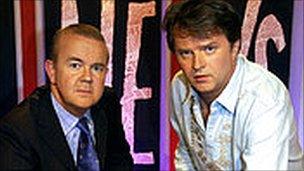 Claims that a Shropshire town's infamous roundabouts were designed from teacup stains on planners' blueprints have been dismissed as an "urban myth".
Telford's roundabouts were featured in a round on the BBC One topical panel game Have I Got News For You televised on Thursday.
According to the show the town's traffic islands came about due to council officials spilling their tea.
The UK's Roundabout Appreciation Society said the claim was exaggerated.
"It was something of an urban myth," said the society's president Kevin Beresford, who is also editor of Roundabout Review, the guest publication featured on Thursday's show. "It was good fun, but I think they exaggerated it a bit."
Telford's agony was prolonged by the show's panel.
Guest presenter Miranda Hart asked: "Telford's roundabouts created what?"
Comedian Greg Davies replied: "A vortex that sucked in anything picturesque and all sense of hope."
In 2005 the Roundabout Appreciation Society produced a calendar of Telford's roundabouts.
Related Internet Links
The BBC is not responsible for the content of external sites.