Savings at Telford & Wrekin Council to be made in next year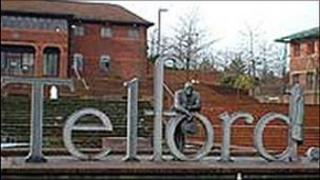 More savings will have to be made at a Shropshire council in the next year than first anticipated, it has said.
Telford & Wrekin Council had been preparing to face cuts to its budgets of about £25m over the next four years.
But following the government's announcement about council cuts on Monday, the council has said nearly 50% of those cuts could fall in the next year.
Leader Andrew Eade said the council faced "significant challenges".
'Unprecedented deficit'
He said the Conservative-controlled council had been working "extremely hard" to put itself into as strong a position as possible.
"Whatever was announced yesterday, the fact is that we face a 12% cut in cash terms next year, which will pose a very real challenge," Mr Eade said.
"The reason we are in this position is because of the unprecedented deficit in public finances nationally."
The number of senior management at the council has halved from 28 two years ago to 14, he said, saving £1.75m per year.
In October, the council's chief executive, Victor Brownlees, said job cuts would be inevitable but the council would try to limit redundancies.